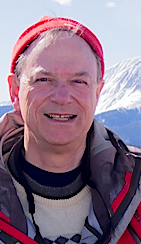 Passion for the outdoors, years of experience in marketing and sales to companies and decades of copywriting set me apart from other copywriters.
My passion for the outdoors came early. I joined the Boy Scouts in Washington State. We hiked in all seasons in the Cascades and the Olympics. I was hooked.
We got first-hand experience roping up for risky terrain. Carrying ice axes was a must. We skied backcountry and practiced avalanche survival and rescue. We competed in orienteering.
These early experiences and the ones that followed have helped me serve many kinds of companies. I write text for their catalogs, ads and websites.
This experience will help me serve you.
Experienced Marketer and Content Creator
I headed sales and marketing worldwide for a successful marketing and export company. We designed, marketed and sold woolen fashions. This experience imprinted in me the marketing-sales-delivery-follow-up cycle.
I wrote sales scripts with Q&A notes for our customers' sales staff. For buyers I drafted product selection plans. I kept buyers updated with bestseller bulletins. At scheduled intervals I checked their restocking plans. When the time came, I worked out effective price-reduction strategies for the merchandise managers.
For you, this means that working with me requires no handholding. I know the importance of consulting all stakeholders in the design, production, sales and delivery chain. I can do detailed product research and meet delivery deadlines. You can expect me to serve you as a partner-consultant as well as a copywriter.
Content for Marketing and Thought Leadership
Do you need useful readable content focused on your customers' concerns? I have written successful newsletters for both industrial and institutional clients three times a week for decades.
I have also penned books and articles for senior management. This means you can get clear and effective thought leadership content from me.
In sum, you can rely on getting content, messages and offers that are finetuned to your marketing goals.
Easy to Connect With
Would it make sense for us to talk? Here's how to contact me.
See further details about partnering with me: